Improve NPS with Guided Selling
Are you eager to improve your business's Net Promoter Score (NPS) and cultivate strong customer loyalty? Look no further! In this article, we delve into a powerful strategy that can significantly elevate your customer satisfaction metrics. By harnessing the potential of guided selling, you can enhance your NPS and create a more engaging and personalized experience for your customers. Through practical implementations and examples, we'll explore how guided selling can help you boost your NPS and also foster deeper connections with your customers. So, let's dive into the world of NPS enhancement through guided selling and uncover the secrets to unlocking higher customer loyalty.
What is NPS?
NPS, or Net Promoter Score, is a metric that measures customer satisfaction and loyalty. It revolves around a single, vital question: "On a scale of 0 to 10, how likely are you to recommend our product/service to a friend or colleague?" Respondents are then categorized into three groups: Promoters (score 9-10), Passives (score 7-8), and Detractors (score 0-6). The NPS is calculated by subtracting the percentage of Detractors from the percentage of Promoters, yielding a score between -100 to 100. This score serves as a clear indicator of customer sentiment and helps businesses understand their customers' loyalty levels.
NPS is a versatile tool that spans industries. From e-commerce to hospitality, it provides insights into customer opinions, enabling businesses to tailor strategies. For instance, a high NPS suggests satisfied customers who are more likely to refer others, acting as brand advocates. On the other hand, a low NPS highlights areas for improvement and reveals potential detractors. This metric offers a tangible way to measure customer satisfaction and pinpoint where efforts should be focused to enhance loyalty and overall business growth.
Why does NPS matter?
NPS matters because it serves as a powerful indicator of customer loyalty and satisfaction. When customers are genuinely satisfied with your products or services, they're more likely to recommend your business to others. This word-of-mouth promotion is a key driver of growth and success. A high NPS score signifies that your customers are not just transactional buyers; they are emotionally connected advocates who believe in your brand.
Furthermore, NPS data provides actionable insights that enable you to address specific pain points, enhance customer experiences, and fine-tune your strategies together with other insights. This feedback loop empowers you to align your offerings with customer expectations, fostering long-term relationships. NPS isn't just a number; it's a reflection of your brand's impact on your customers' lives. As you prioritize NPS improvement, you're essentially investing in a foundation of trust, loyalty, and sustainable growth for your business.
In today's tough business world, having loyal customers is crucial. NPS helps us measure how much customers like us. By working to improve our NPS, we get repeat customers and build a group of loyal fans who support our brand. NPS matters because it shows how much customers trust and value us, which is essential for long-term success.
How can you measure NPS?
To measure NPS, you can take a look at the following steps:
Ask the Question: Begin by posing the NPS question to your customers: "On a scale of 0 to 10, how likely are you to recommend our product/service to a friend or colleague?" This single question serves as the foundation for calculating the Net Promoter Score.

Categorize Responses: After collecting responses, categorize customers based on their scores. Those who give a score of 9 or 10 are labeled as Promoters. Scores of 7 or 8 categorize customers as Passives, while scores between 0 and 6 classify them as Detractors. This classification helps you understand the distribution of customer sentiment.

Calculate NPS: Calculate the Net Promoter Score by subtracting the percentage of Detractors from the percentage of Promoters. The resulting score can range from -100 to 100. A higher score indicates a healthier level of customer loyalty and advocacy, while a lower score suggests areas for improvement.

Follow Up: For deeper insights, follow up with open-ended questions to understand the reasons behind customers' scores. This qualitative data can provide context to your NPS scores, helping you uncover patterns and specific pain points that drive customer sentiment.

Analyze Trends: Regularly track changes in your NPS scores over time. These trends can reveal shifts in customer satisfaction and loyalty, offering valuable insights into the impact of your initiatives, product changes, or customer service enhancements.

Segment Results: To gain a more comprehensive understanding, segment NPS results by demographics, purchase behavior, or other relevant factors. This can unveil variations in customer sentiment across different customer groups, guiding more targeted improvements.

Use Insights: The insights derived from your NPS survey can be invaluable. Identify areas where your product or service excels, as well as those that need attention. Addressing customer concerns and capitalizing on strengths can lead to improved customer satisfaction and overall business growth.
Improve NPS with Guided Selling
Guided selling focuses on understanding customer preferences and needs, enabling you to provide tailored product suggestions that resonate. As customers find products more aligned with their requirements, their satisfaction increases, translating to improved NPS scores.
Guided selling not only aids customers in making informed decisions but also nurtures brand loyalty. By offering personalized recommendations, you demonstrate a commitment to addressing individual needs, fostering positive interactions and building trust. This, in turn, contributes to elevated NPS, as satisfied customers are more likely to recommend your brand to others.
Moreover, guided selling minimizes the chances of customers encountering products that don't suit their needs, reducing the likelihood of negative experiences. When customers consistently find value in their purchases, their loyalty deepens, leading to higher NPS ratings. The seamless shopping journey facilitated by guided selling plays a pivotal role in cultivating a customer base that is inclined to advocate for your brand.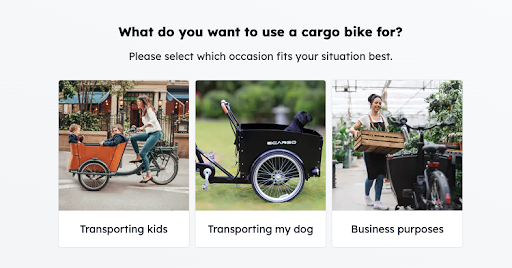 Ready to increase your NPS with guided selling?
If you're looking to take your guided selling strategy to new heights and increase your business's NPS, Qonfi's Product Finder is the answer. Our platform is designed to enhance the online customer experience of your customers and boost conversions like never before. From tailored suggestions to real-time guidance, the tool ensures every customer finds the perfect fit for their needs.
With guided selling, you're not just selling products; you're guiding your customers towards the best choices for their needs. This builds trust and boosts their confidence in making a purchase decision. As a result, you'll likely witness a noticeable uptick in your NPS. So, if you're looking to bolster your business's bottom line by boosting conversions, guided selling is a strategy well worth exploring.

Get started for free to help you establish stronger connections with your valued customers. Let Qonfi be your partner in success to boost your conversions!