Improve User Experience with Guided Selling
Are you ready to take your online business's user experience to the next level? In this article, we'll dive into the powerful concept of guided selling and how it can transform the way your customers interact with your products. Guided selling isn't just about making a sale; it's about creating a seamless and enjoyable journey for your customers, from the moment they land on your website to the point of purchase. By incorporating guided selling strategies into your business model, you can enhance user satisfaction, boost engagement, and ultimately drive higher conversion rates. So, let's explore how guided selling can be the key to delivering an exceptional user experience that keeps your customers coming back for more.
What is the Definition of User Experience?
User experience (UX) refers to the overall interaction that individuals have with a product, service, or system, encompassing every touchpoint and interaction. It's the impression left on users, shaped by their interactions, feelings, and perceptions throughout their journey. A seamless UX means users can easily navigate and achieve their goals, resulting in satisfaction and loyalty.
For instance, think about booking a flight online. A website with a clean layout, intuitive navigation, and straightforward steps makes the process smooth and enjoyable. Contrastingly, a cluttered interface or confusing layout might lead to frustration, potentially causing users to abandon the site. Great UX ensures that users can effortlessly find the information they need, complete their tasks, and leave with a positive impression.
UX isn't solely about aesthetics; it's about functionality and usability. A user-friendly interface, clear navigation, and intuitive design contribute to a positive UX. Imagine using a fitness app that not only tracks your progress accurately but also presents the data in a visually appealing way. Such an app not only helps you achieve your fitness goals but also makes the process enjoyable and engaging.
Businesses that prioritize UX create a competitive edge by meeting users' needs effectively. Whether it's an e-commerce site, a mobile app, or a software application, a well-designed UX minimizes user friction and enhances their overall experience. By understanding users' motivations and behaviors, you can tailor your products and services to evoke positive feelings and forge deeper connections. In essence, user experience revolves around making users' lives easier, more enjoyable, and more meaningful through thoughtful design and interaction.
Examples of User Experience
User experience (UX) is evident in a website's easy navigation, quick-loading pages, and clear product displays.
Think of an online store where finding and purchasing products is effortless.
Imagine a mobile app that adapts smoothly to different devices, ensuring a consistent experience for users on smartphones, tablets, or computers.
Consider a seamless checkout process that guides customers through each step, minimizing confusion and frustration.
Picture a customer service chatbot that swiftly answers queries, enhancing user satisfaction.
Visualize a website's intuitive layout, helping visitors quickly locate information and products.
Think of a personalized shopping recommendation feature that suggests products based on user preferences.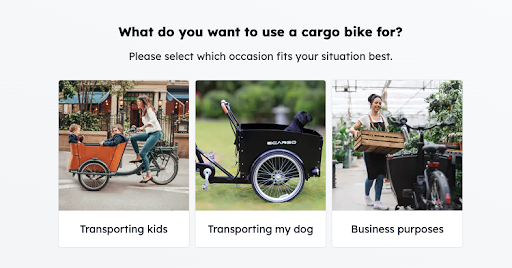 Picture a user-friendly return policy that reassures customers and enhances trust.
Imagine an interactive product demo that allows users to explore features before making a decision.
Consider a clean and organized design that eliminates clutter and distractions, promoting a focused browsing experience.
Visualize a website that loads promptly on any device, reducing waiting times for users.
These examples illustrate how exceptional UX contributes to a positive online experience, boosting customer satisfaction and encouraging repeat business.
Why does UX matter?
User experience (UX) is a key factor that directly influences how customers perceive and engage with your brand. In a world where options are abundant and attention spans are fleeting, a positive UX can set your business apart. A seamless and enjoyable experience on your website, app, or platform keeps users engaged, encourages return visits, and fosters brand loyalty.
Consider this scenario: a potential customer lands on your website seeking a specific product. If they find the interface confusing, the navigation convoluted, or the load times sluggish, they're likely to leave in frustration. On the other hand, a well-optimized site that offers intuitive navigation, clear information, and a smooth checkout process enhances the likelihood of a successful conversion.
Moreover, a satisfying UX extends beyond immediate transactions. It contributes to word-of-mouth recommendations, social sharing, and positive reviews. Happy customers are more likely to become brand advocates, promoting your offerings to their circles. Conversely, a poor UX can lead to negative reviews and customer complaints, tarnishing your reputation. Therefore, investing in UX isn't just about making your digital platforms user-friendly; it's about fostering long-lasting relationships with your audience, increasing customer retention, and driving business growth.
8 Ways to improve UX
Here we list eight tips to improve your user experience:
Optimize Page Speed: Slow-loading pages can frustrate users and lead to high bounce rates. Optimize images by compressing them without sacrificing quality. Minimize code and scripts to reduce loading times. Regularly monitor your site's speed using tools like Google PageSpeed Insights.

Mobile Responsiveness: With mobile devices being the primary way users access the web, responsive design is a must. Your website should adapt seamlessly to various screen sizes, ensuring users have a consistent experience whether they're on a smartphone, tablet, or desktop.

Clear Call-to-Action (CTA): Effective CTAs guide users towards the actions you want them to take. Make them stand out by using contrasting colors, concise text, and well-defined buttons. For instance, if you want users to subscribe to a newsletter, use a CTA like "Join Now" that conveys a sense of urgency.

Simplify Forms: Lengthy and complex forms can deter users from completing actions. Keep forms concise by asking only for essential information. Use placeholder text to provide guidance within form fields, and include inline validation to help users correct mistakes in real-time.

Intuitive Navigation: Ensure that your website's menu and content are organized in a clear and logical manner. When users can easily find what they're looking for, they're more likely to stay engaged and explore further. This means categorizing your products or services in a way that makes sense to your target audience, and using descriptive labels that provide a clear understanding of what each section offers.

Interactive Elements: Incorporating interactive features on your website can captivate users and make their experience more enjoyable. Quizzes, polls, and calculators are excellent tools to engage visitors, helping them interact with your content in a fun and informative way. For instance, an online clothing store could have a "Style Quiz" that suggests outfits based on users' preferences and body types.

Personalized Content: Utilizing user data to deliver personalized recommendations and content is a powerful way to create a tailored experience. By analyzing user behavior, purchase history, and preferences, you can present products, articles, or offers that align with their interests. This not only enhances their experience but also increases the likelihood of conversions.

Live Chat Support: Real-time customer support through a live chat feature allows users to get immediate answers to their queries. This can lead to faster problem resolution and a more seamless browsing experience. For example, an online electronics store could offer live chat assistance to help users with technical questions about products.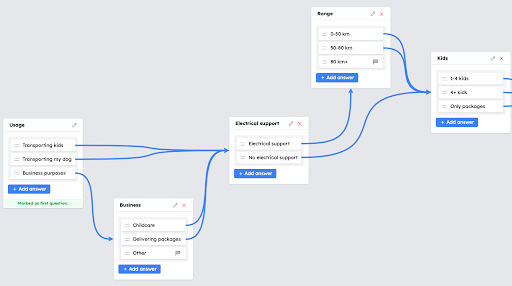 By focusing on these eight strategies, you're not only enhancing the user experience but also increasing the likelihood of achieving your desired outcomes. Remember, a user-centric approach leads to more engaged and satisfied customers, which in turn boosts conversions and drives business success.
Improve UX with Guided Selling
Enhancing User Experience (UX) is paramount in today's competitive digital landscape, and guided selling offers a powerful tool to achieve just that. Guided selling seamlessly integrates into your online platform, guiding users through their purchase journey with personalized recommendations. This approach reduces decision-making fatigue, leading to a smoother and more satisfying experience.
Imagine a potential customer visiting an e-commerce site looking for a specific type of laptop. With guided selling, they're prompted to answer a few simple questions about their preferences and needs. Based on their responses, the system generates tailored laptop options, presenting only those that match their criteria. This not only simplifies their decision but also provides a sense of personalized assistance, increasing their satisfaction with your website.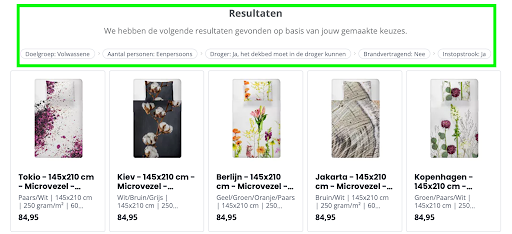 Moreover, guided selling isn't limited to product recommendations; it can extend to providing relevant information, addressing common concerns, and even offering real-time assistance. By anticipating and meeting users' needs, guided selling creates a positive impression, fostering trust and loyalty. Ultimately, this translates into improved user satisfaction, increased conversion rates, and a significant boost to your online business's success.
Ready to improve your User Experience?
If you're looking to take your guided selling strategy to new heights and improve your user experience, Qonfi's Product Finder is the answer. Our platform is designed to enhance the online customer experience of your customers and boost conversions like never before. From tailored suggestions to real-time guidance, the tool ensures every customer finds the perfect fit for their needs.
With guided selling, you're not just selling products; you're guiding your customers towards the best choices for their needs. This builds trust and boosts their confidence in making a purchase decision. As a result, you'll likely witness a noticeable uptick in your user experience. So, if you're looking to bolster your business's bottom line by boosting conversions, guided selling is a strategy well worth exploring.
Get started for free to help you establish stronger connections with your valued customers. Let Qonfi be your partner in success to boost your conversions!