11 Benefits of Guided Selling for your Online Business
Welcome to the online world, where businesses are constantly striving to create a seamless and personalized shopping experience for their customers. One strategy that has shown great promise is guided selling. Guided selling helps customers find the right products for them by providing personalized recommendations and interactive experiences. Guided selling helps customers find the goods or services that best fit their needs. In this article, we'll explore the 11 key benefits of guided selling for your online business. From increasing conversions to improving user experience, guided selling can make a significant difference in how you connect with your customers and achieve online growth. Join us as we dive into the impact of guided selling and how it can elevate your online business!
1. Boost Conversions and increase conversion rate
One of the primary benefits of guided selling for your online business is its ability to boost conversions and increase the conversion rate. By providing personalized product recommendations and helping customers through the decision-making process, guided selling can help reduce the chances of indecision or hesitation. When customers feel that the products offered are tailored to their specific needs and preferences, they are more likely to make a purchase, leading to a higher conversion rate and thereby boosting your conversions.
In addition to improving the overall conversion rate, guided selling can also enhance the quality of conversions. By steering customers towards products that align with their preferences, businesses can experience an increase in the number of satisfied customers. This not only leads to higher conversion rates but also fosters customer loyalty and repeat business, driving long-term success for your online venture. With guided selling, you can optimize your sales process, providing a seamless and personalized shopping experience that converts your visitors into loyal customers.

2. Increase Zero Party Data
Another valuable benefit of guided selling for your online business is its potential to increase zero-party data collection. Zero-party data refers to the information that customers willingly share with businesses, such as their preferences, interests, and buying intentions. With the use of guided selling tools, businesses can actively engage customers in interactive and personalized experiences. This engagement encourages customers to willingly provide valuable zero-party data throughout the process. By directly obtaining this first-party data from customers, businesses can acquire deeper insights into their preferences and needs, thereby better identifying high quality leads and enrich CRM data. Consequently, these insights allow for the development of more precise and effective marketing strategies. This heightened level of personalization not only contributes to increased customer satisfaction but also amplifies the overall efficiency of marketing endeavors. As a direct consequence, customer loyalty experiences a notable boost.
3. Improve User Experience (UX)
Enhancing the user experience (UX) is one of the crucial advantages that guided selling brings to your online business. By providing personalized product recommendations throughout the customer journey, guided selling ensures that customers have a seamless and satisfying experience. By incorporating interactive tools and intuitive interfaces, businesses can establish a user-friendly environment. This environment simplifies the decision-making process for customers and reduces customers' uncertainty, making it easier for them to pinpoint products that best suit their needs. Consequently, customers are more likely to have confidence in their choices, resulting in heightened levels of satisfaction and increased brand loyalty. Through the prioritization of user experience (UX) via guided selling, businesses cultivate a positive and memorable shopping journey. This approach not only sets them apart from competitors but also solidifies a reputation for delivering exceptional customer service.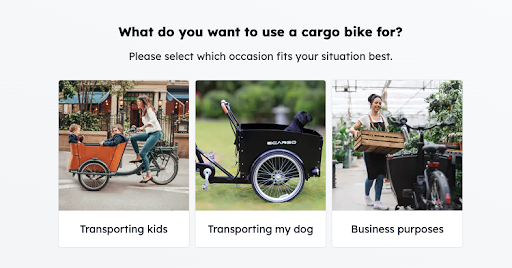 4. Improve NPS (More loyal customers)
By implementing guided selling strategies, businesses can improve their Net Promoter Score (NPS) and cultivate a base of more loyal customers. NPS is a metric that measures customer satisfaction and loyalty, indicating how likely customers are to recommend a company or brand to others. With guided selling, businesses can offer personalized recommendations throughout the customer journey, leading to enhanced customer experiences and higher levels of satisfaction. Satisfied customers are more likely to become brand advocates, promoting your business through positive word-of-mouth and referrals. As NPS increases, so does the potential for long-term customer retention and increased customer lifetime value, translating into growth and success for your online business. Emphasizing customer satisfaction through guided selling not only helps businesses stand out from competitors. It also fosters lasting relationships with customers, driving repeat purchases and fostering a loyal customer base.
5. Increase Average Order Value
Embracing the perks of guided selling can also lead to an increase in the average order value for your online business. By providing personalized product recommendations based on customer preferences and needs, you guide customers towards making more value-packed purchase decisions. This not only enhances their shopping experience but also encourages them to explore complementary products they might not have considered otherwise. Customers recognize the added value in these recommendations or specific attributes. Furthermore, they tend to add more items to their cart, leading to higher average order values. Websites which use guided selling see an average order value increase of +7-15% on average. This can significantly boost your business's revenue and profitability. Plus, it offers customers tailored solutions that match their unique needs.
6. Optimize Product Assortment
Incorporating guided selling into your online business strategy can greatly assist in optimizing your product assortment. With Qonfi, you can analyze each interaction and gain insights in which answers and questions are most preferred. Through these data-driven insights gathered from customer interactions and preferences, you gain a deeper understanding of which products resonate the most with your audience. This knowledge enables you to curate your product offerings to align more precisely with what your customers are looking for. It also streamlines your inventory and reduces the risk of overstocking less popular items. By tailoring your product assortment to match customer demands, you create a more efficient and customer-centric shopping experience. This not only satisfies their needs but also maximizes your business's revenue potential. Therefore, this strategic approach to product selection can lead to improved sales, minimized wastage, and enhanced customer satisfaction, contributing to the overall success of your online venture.
7. Decrease Customer Contact
By embracing guided selling, you can experience the benefits of reduced customer contact. Through the provision of accessible product information and recommendations during the purchasing process, customers gain a clearer understanding of your offerings. This leads to a reduction in inquiries and clarifications, as customers are more empowered to make informed decisions. Consequently, your customer support team's workload is lightened, allowing them to focus on more complex issues and providing higher-quality assistance. This reduction in customer contact not only saves time and resources but also enhances the overall efficiency of your online business, fostering a seamless and satisfying shopping experience for your customers.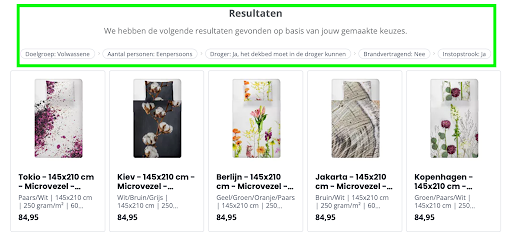 8. Decrease Product Returns
Guided selling plays a pivotal role in minimizing product returns, one of the advantages that greatly contributes to the overall success of your online business. By providing customers with tailored product recommendations, you can significantly reduce the likelihood of purchasing items that don't align with their expectations. When customers are presented with products that genuinely meet their requirements, the chances of dissatisfaction and subsequent returns decrease substantially. This not only saves your customers from the hassle of returning products but also saves your business the associated costs and potential negative impact on your reputation. As a result, your focus can shift towards delivering a more personalized and accurate shopping experience. This approach promotes customer satisfaction and loyalty, ultimately leading to fewer returns and greater profitability.
9. Increase Marketing Automation
Imagine you're adding customer data to your CRM or E-mail marketing platform. Guided selling boosts your marketing automation by integrating specialized apps and platforms. These apps automate tasks, like delivering personalized product recommendations, streamlining your customers' decision-making process.
As customers engage more with your business through tailored suggestions, you gain valuable insights. These insights refine your marketing strategies, ensuring your content reaches the right audience at the perfect time. By embracing guided selling apps, you save time and foster more effective customer interactions, making use of advanced marketing automation. This synergy translates to increased customer satisfaction and loyalty, amplifying your online business's success.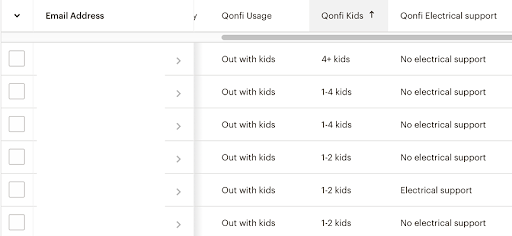 10. Providing Relevant Product Advice to assist your Customers
One of the standout perks of guided selling is the ability to assist your customers by offering them tailored and relevant product advice. When customers receive tailored recommendations based on their preferences and needs, they are more likely to make informed purchasing decisions. This personalized guidance can lead to higher levels of customer satisfaction and loyalty, as customers feel that their unique requirements are understood and addressed. By leveraging guided selling, you not only enhance the customer experience but also establish your brand as a trusted source of valuable insights. This approach fosters stronger customer relationships and reinforces your commitment to meeting their needs effectively.
11. Better On-site Personalization
One of the advantages of guided selling is its ability to enhance on-site personalization. By integrating AI-driven tools and data analysis, you can tailor the experience for each visitor. This customization goes beyond product recommendations, it encompasses their entire journey on your site. From landing to purchase, guided selling provides relevant content, offers, and suggestions. All of these align with their preferences and browsing habits, which not only enhances the shopping process but also increases the likelihood of conversion. The combination of guided selling and data-driven personalization creates better on-site personalization. By adopting guided selling, you improve your online business's user experience, which sets the stage for consistent growth in the competitive e-commerce landscape.
Ready to experience these benefits?
If you're looking to boost your online performance to new heights and drive growth for your business, Qonfi's guided selling is the answer. Our platform is designed to enhance the online customer experience of your customers and boost conversions like never before. From tailored suggestions to real-time guidance, the tool ensures every customer finds the perfect fit for their needs.
Get started for free to help you establish stronger connections with your valued customers. Let Qonfi be your partner in success!