Increase average order value with guided selling
Guided selling can help increase the average order value by suggesting complementary products or upselling to higher-priced items. Guided selling is a sales technique that helps customers find the right product for their needs. It involves asking questions about their preferences and needs and then recommending products based on their answers. In other words: with guided selling, you can identify a customer's need, and give a relevant and personalized product advice accordingly. Click this link to see how guided selling works.
What is the average order value?
The average order value (AOV) is the average amount of money spent by each customer per transaction. It is calculated by dividing the total revenue by the number of orders. For example, if a business has $10,000 in revenue from 100 orders, the AOV would be $100.
Why increasing AOV matters for businesses
Increasing the AOV can help businesses increase their revenue without having to acquire new customers. It can also help businesses improve their profit margins by selling more high-margin products. Additionally, customers who spend more are more likely to be loyal and make repeated purchases.
Increase AOV by +15% with guided selling
Customers are often not aware of all the different product attributes. When they are not aware, they don't mind them. When they don't mind, they are not eager to spend more money on a specific product. This means that it's harder to steer customers to higher priced products (and increase AOV).
Guided selling can help increase the AOV by suggesting complementary products or upselling to higher-priced items. As guided selling allows you to ask specific questions to your customers, you get a chance to truly identify their needs. This also allows you to ask questions and describe specific product attributes, such as shown below where a customer is asked whether he prefers a duvet which is made of fire retardant materials. When a customer clicks 'yes', only duvets with fire retardant materials are shown, which in this case, have a higher average order value.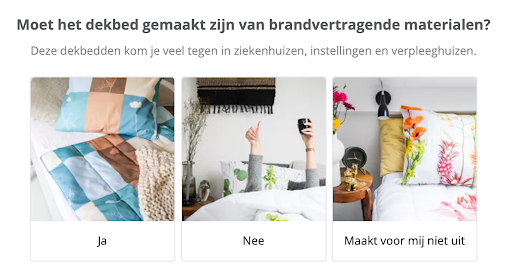 By asking questions about the customers preferences and needs, businesses can recommend and better justify higher priced products that meet the customers' needs and budget. Websites who use guided selling see an AOV increase of +7-15% on average. Also check out this case study where a +9% AOV increase was realized with guided selling.
Measure guided selling performance in GA4
Google Analytics 4 (GA4) allows businesses to measure the performance of their guided selling campaigns in GA4.
By setting up events and goals, businesses can track how many customers complete the guided selling process and how much revenue is generated from those customers. They can then benchmark this data versus customers who didn't used a selling guide.