The Synergy of AI and Guided Selling
Have you ever wondered how AI and guided selling can join forces to revolutionize your business's success? In this article, we'll explore the dynamic synergy between these two powerful strategies and how their collaboration can elevate customer experiences. By blending the potential of AI with the strategic approach of guided selling, businesses can unlock new levels of customer engagement, conversion rates, and overall growth. Let's dive into this exciting fusion between AI and guided selling and uncover the ways it can reshape the landscape of customer interactions and business achievements.
How can AI contribute to Guided Selling?
AI brings a transformative edge to guided selling, particularly through tools like the product finder. When you use AI's predictive capabilities, the product finder can analyze customer preferences, behaviors, and past interactions to offer personalized recommendations. This empowers customers by presenting them with tailored solutions, enhancing their decision-making process and overall satisfaction. AI's ability to process vast amounts of data in real-time refines these recommendations, making them even more accurate and relevant.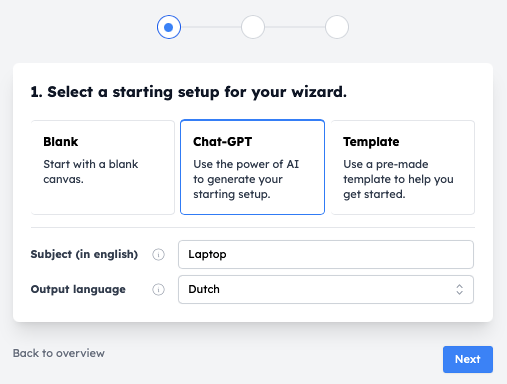 Furthermore, AI enhances the product finder's adaptability. It can continuously learn from customer interactions, adjusting recommendations based on evolving preferences. This agility creates a fluid and dynamic shopping experience, ensuring that customers are consistently presented with the most suitable options. As a result, AI-infused guided selling optimizes customer engagement, drives conversions, and cultivates loyalty by providing seamless, individualized journeys.
Use AI to generate Questions and Answers
Leveraging AI to generate questions and answers through tools like a product finder offers an innovative approach to enhancing customer interactions. This technology enables businesses to anticipate customer needs and queries, providing immediate and accurate responses. For instance, a customer searching for a specific product can receive instant guidance on its features, benefits, and compatibility, all powered by AI-generated information.
AI-driven question-and-answer capabilities streamline the customer journey by eliminating friction points. Customers can quickly obtain the information they're looking for without navigating through complex webpages or waiting for customer support. This efficiency not only boosts customer satisfaction but also increases the likelihood of conversions. AI's role in generating tailored responses through the product finder exemplifies its ability to elevate customer experiences and drive successful outcomes.
Furthermore, AI's capacity to continuously learn and adapt makes the guided selling process even more effective over time. As customers interact with the product finder and ask questions, the AI system refines its responses based on user behavior and preferences. This iterative learning ensures that the guidance provided becomes relevant and personalized, mimicking a human-like interaction. Businesses can rely on this dynamic AI-guided selling approach to address customer inquiries. Furthermore, suggest relevant products or services and create a seamless and engaging shopping experience that drives conversions. The integration of AI and guided selling is a prime example of technology's potential to amplify business success and enhance customer satisfaction.
Example of AI Guided Selling
Imagine a customer named Sarah who visits an online furniture store in search of a new sofa. As she enters the website, the AI-powered product finder tool engages with her, asking simple questions about her preferences. Sarah answers that she's looking for a modern-style sofa with a neutral color and compact size to fit her small living room. Based on her responses, the AI instantly narrows down the options and showcases a curated selection that meets her criteria. This tailored approach saves her time and frustration, making her more likely to make a purchase.
In another scenario, John is exploring an electronics retailer's website for a new laptop. The AI-guided product finder interacts with him, inquiring about his needs. John reveals that he's a graphic designer who requires a laptop with high processing power and a vibrant display. The AI quickly analyzes his requirements and presents him with laptops that match his professional needs, along with detailed specifications and customer reviews. By effectively guiding John towards the best choices, the AI not only assists him in making an informed decision but also contributes to a positive user experience that leaves him satisfied with his purchase.

In both cases, the product finder tool's AI-driven capabilities enhance the shopping journey. By leveraging AI to understand customer preferences, businesses can present tailored recommendations that resonate with individual needs, creating a more personalized and efficient shopping experience. This integration of AI and guided selling empowers customers like Sarah and John to find products that precisely align with their preferences, fostering customer loyalty and boosting conversions along the way.
Ready to discover Guided Selling?
If you're looking to take your guided selling strategy to new heights and drive growth for your business, Qonfi's Product Finder is the answer. Our platform is designed to enhance the online customer experience of your customers and boost conversions like never before. From tailored suggestions to real-time guidance, the tool ensures every customer finds the perfect fit for their needs.
Get started for free to help you establish stronger connections with your valued customers. Let Qonfi be your partner in success!