Case study: Dekbed zonder overtrek tested Qonfi guided selling and saw a +255% higher conversion rate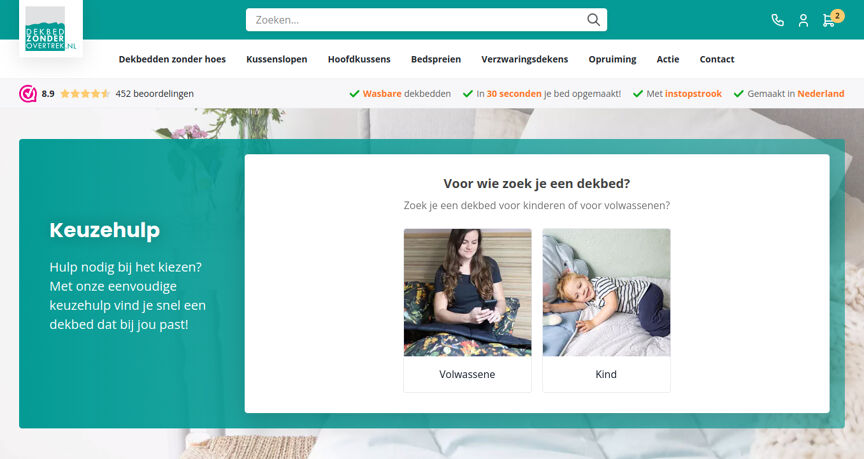 Textile industry - EMEA - dekbedzonderovertrek.nl
Primary Marketing Objective
Growth online sales
The challenge
Dekbedzonderovertrek.nl (DZO) is the market leader in duvets without covers in The Netherlands. DZO's main challenge is to increase their on-site conversion rate such that all online (paid) channels can benefit from it. Moreover, DZO has a broad product assortment and customers find it hard to choose the right product - customer support is therefore relatively high.
The approach
Create and implement Qonfi guided selling on dekbedzonderovertrek.nl. With guided selling, customer needs are easily identified and the major product properties are highlighted and explained such that customers become more aware. A personalized product advice is then given to the customer based on his or her needs.
The results
With the implementation of Qonfi guided selling, dekbedzonderovertrek.nl saw a +255% higher conversion rate, +9% higher average order value and a +281% higher revenue from Qonfi users compared to non-Qonfi users. Moreover a significant drop in product returns and customer support was noticed. Based on the insights of Qonfi users, dekbedzonderovertrek.nl managed to optimize their assortment based on customer needs. Pleased with the results, dekbedzonderovertrek.nl is now focussing on further optimizing Qonfi and implementing it on multiple product categories.
Dekbedzonderovertrek.nl about Qonfi
"Since we started using Qonfi, we have realized more sales and fewer returns on our webshop. Customers find it easier to identify their wishes and our possibilities and thus order the right product. Configuring the wizard was easy. We are very pleased with this great addition."
A. Tamminga - owner Dekbedzonderovertrek.nl
Qonfi users compared to benchmark
Conversion rate: +255%
Average order value: +9%
Revenue +281%
Overall performance improvements
Decrease of product returns
Decrease of customer support
Optimized product assortment based on customer needs