Boost Conversions with Guided Selling
Are you tired of relying on traditional (online) sales techniques that ultimately result in a low conversion rate? In this article, we'll delve into the fundamental concept of guided selling and uncover its transformative effects on boosting conversions for your business. We will also explore the practical aspects of measuring the impact through Google Analytics 4. By the time you finish reading, you'll have gained a comprehensive understanding of how guided selling can be a game-changer for boosting conversions to your online business. This approach has the potential to drive higher conversion rates and optimize your customer experience. So, let's dive in to harness the power of guided selling and take your conversions to new heights. Let us first briefly explain the concept of guided selling.
What is Guided Selling?
Imagine entering a virtual store where you're assisted by a knowledgeable tool which understands your preferences, needs, and concerns. Guided selling replicates this personalized experience in the digital realm. It's about offering customers the right personalized information and suggestions at the right time, helping them navigate complex choices with ease. By analyzing customer behavior, previous interactions, and preferences, businesses can provide highly relevant product recommendations that align with each individual's interests.
Guided selling is a dynamic strategy employed by online businesses to guide potential customers through their buying journey in a personalized and interactive manner by giving customers personalized product advice which meet their specific needs. This method involves leveraging technology, data, and customer insights to provide tailored product recommendations, advice, and solutions at different stages of the decision-making process.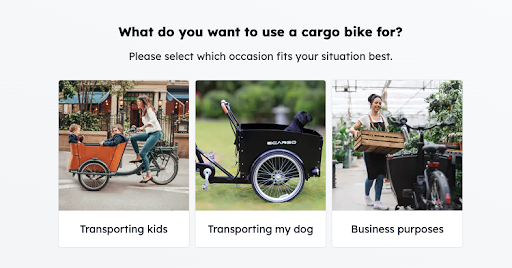 In essence, guided selling transforms the digital shopping experience from a static transaction into an engaging and interactive journey. It empowers customers to make well-informed decisions and discover products that resonate with their requirements. Guided selling not only boosts sales by reducing friction in the purchasing process but also enhances customer satisfaction and loyalty. So, let's uncover how this approach contributes to elevated conversion rates and an enriched online shopping experience.
How to boost Conversions with Guided Selling
With its intuitive interface and personalized approach, guided selling significantly boosts conversions. Guided selling, also referred to as product finder, doesn't just offer recommendations; it identifies customer needs and guides customers to products that genuinely resonate with their needs, resulting in higher conversion rates, satisfied customers which boost conversions..
Let's delve into how you can leverage guided selling to elevate your conversion rates, a key metric in order to boost conversions. Here's a step-by-step guide showcasing the effectiveness of guided selling in enhancing customer engagement and driving conversions:

Identify customer needs: Qonfi guided selling greets customers with a user-friendly interface that guides them seamlessly through their shopping journey. As customers answer questions about their preferences, needs, and requirements, the tool tailors recommendations to match their unique criteria.

Dynamic Updates: As customers progress through the questionnaire, the selling guide dynamically updates its suggestions. For instance, if a customer is looking for skincare products, their chosen skin type and concerns prompt real-time recommendations for cleansers, moisturizers, and treatments.

Personalized Recommendations: Through a series of interactive questions, the selling guide gathers insights into customers' preferences. If you're an electronics retailer, the tool might ask whether they need a laptop for gaming, work, or entertainment. Based on their answers, the product finder suggests the most suitable options, relevant for each individual customer, leading to higher conversion rates.

Enhanced Decision-making: The guided selling process empowers customers with informed choices. Imagine a customer seeking running shoes; the selling guide considers factors like terrain, cushioning, and pronation, leading to accurate shoe recommendations that cater to their specific needs.

Confident Purchases: With the guided selling assistance, customers gain confidence in their purchase decisions. If they're exploring outdoor grills, the tool might ask about their preferred cooking style, frequency of use, and available space. The result? Targeted suggestions for grills that align perfectly with their lifestyle that result in higher conversion rates.

Reduced Abandonment Rates: By streamlining the product discovery process, the Qonfi selling guide reduces the likelihood of customers abandoning their carts due to overwhelming options. Instead, they're presented with a curated selection that matches their requirements, resulting in higher conversion rates.

Engaging Customer Experience: The interactive nature of guided selling creates an engaging experience. For instance, customers seeking home appliances can enjoy a guided exploration that considers their family size, cooking habits, and space limitations, culminating in recommendations that resonate.

Cross-selling Opportunities: guided selling identifies opportunities for cross-selling. If a customer is interested in workout equipment, the tool can recommend relevant accessories like resistance bands, yoga mats, and water bottles.

Increase average order value: guided selling also increases the average order value of a conversion, which is just as important as boosting conversions. Guided selling can suggest complementary products and steer customers to higher priced products by explaining the advantages of specific product attributes.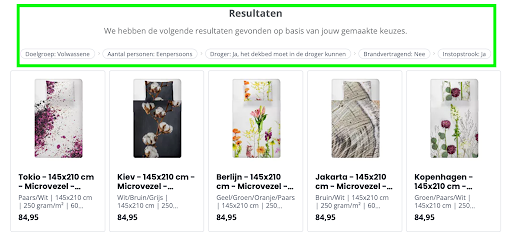 Measure Guided Selling Effect in GA4
Google Analytics 4 (GA4) stands as a robust tool catering to businesses employing guided selling tactics. It reveals insights, offering vital data on the effectiveness of your guided selling strategies. Qonfi guided selling allows you to automatically link with GA4. This way, you can dive deeper into your guided selling performance and gain a thorough grasp of user behavior. This integration enables you to trace Qonfi-related events in GA4 and measure the achievements of Qonfi users against those who don't use the platform, thus shedding light on how Qonfi influences your business.

GA4 offers metrics encompassing conversions, revenue, user engagement, and session duration. This information paints a comprehensive picture of how guided selling enhances the customer journey and helps you make data-driven decisions to optimize your guided selling experience and boost conversions. By refining your approach based on GA4 insights, you can optimize your guided selling process, resulting in enhanced success and customer satisfaction. GA4 emerges as an analytical partner in augmenting your online customer experience.

Want to learn more about how to measure your performance in GA4? Our comprehensive guide holds all the answers.
Ready to discover Guided Selling?
In wrapping up, the power of guided selling in enhancing your online business's conversion rates cannot be overstated. By implementing this strategy, you're essentially extending a friendly helping hand to your potential customers as they navigate your products and offerings. This personalized assistance creates a smoother shopping experience, reducing confusion and increasing the likelihood of successful purchases.
With guided selling, you're not just selling products; you're guiding your customers towards the best choices for their needs. This builds trust and boosts their confidence in making a purchase decision. As a result, you'll likely witness a noticeable increase in your conversions. So, if you're looking to bolster your business's bottom line by boosting conversions, guided selling is a strategy well worth exploring.
If you're looking to take your guided selling strategy to new heights and drive growth for your business, Qonfi guided selling is the answer. Our platform is designed to enhance the online customer experience of your customers and boost conversions like never before. From tailored suggestions to real-time guidance, the tool ensures every customer finds the perfect fit for their needs.
Get started for free to help you establish stronger connections with your valued customers. Let Qonfi be your partner in success!